— Since 1976 —
— Your Online Fence Resource —
Commercial Chain Link Rolling Gates
Fully Fabricated w/ 1-5/8" O.D. Frames
9 ga. Galvanized Fabric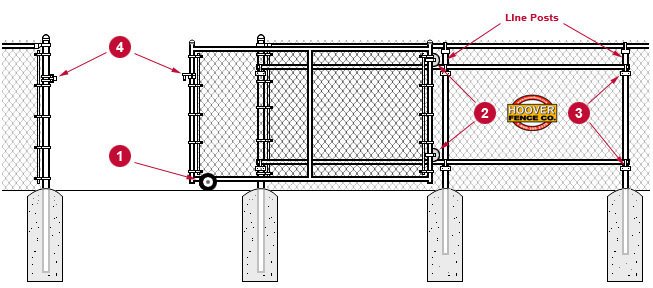 | | |
| --- | --- |
| | Single or Double wheel Carrier |

| | |
| --- | --- |
| | Rear Wheel |

| | |
| --- | --- |
| | Pipe Track Bracket |

| | |
| --- | --- |
| | Latch |

Commercial chain link rolling gates are a great solution for securing openings while minimizing the footprint of the gate. This style of gate slides parallel with the fence line using a track and wheel system. Gates are 6" shorter than the height shown in order to make room for the bottom wheel, while matching up with the fence height. Gates are also built 12" longer than the width shown in the table to allow the whole opening to be closed off. This extra length pushes the back edge of the gate past the terminal post and allows the necessary room for the rear wheels. This style of gate does not require a large counterbalance like it's Cantilever Slide Gate counterpart, which would be recommended if a larger opening is required, or if the gate is to be automated.
Commercial rolling gates are suitable for residential, commercial, and light industrial use. We fabricate these gates from all 1-5/8" O.D. HF20 pipe and tube. Generally gate heights over 4' have a horizontal center brace. Chain Link fence fabric is 9 gauge galvanized with a 2" mesh. Tension bands and bolts secure stretch of wire to frame. 9 gauge aluminum tie wires are used at the top and bottom. Prices do not include the rolling gate hardware. We offer pre-packaged Rolling Gate Hardware Kits, along with all of the separate components to create your gate system. Simply click on the numbers above to view the respective components.
Note on Sizing/Design: If the gate size required is larger than the sizes shown, or you want an automated gate, consider using a Steel Cantilever Gate or Aluminum Slide Gate. We do not recommend automation of rolling gates. Special sizes are available by quote. Actual designs may vary from what is pictured depending on size of gate.

Note: 11.5 ga. and 11 ga. galvanized fabric or 9 ga. extruded black, brown, or green fabric can be substituted at no charge. Make sure to note in special instructions when placing your order.
Note: These photos are for demonstration purpose only, actual size and design may vary slightly. Weights shown are approximate.
Order Online Using Our Secure Shopping Cart or Call Hoover Fence Co. 1-800-355-2335