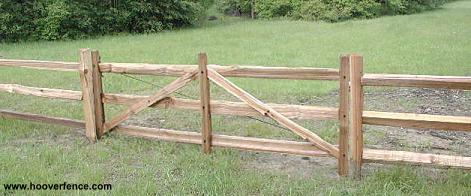 *Shown above as a 9' wide single swing gate. Steel frame, hinge, and latch posts are hidden behind wood material. Use two gate leaves or frames for a double swing gate up to 18' wide.
Click above images to enlarge. Shown are a 9' wide single swing gate and an 18' wide double swing driveway gate. Both have been custom fit with galvanized steel frames for structural support. Gates above shown mounted to 4" O.D. round HF40 galv. posts. Posts hidden with cedar posts for best appearance.
Click Above Images to Enlarge. Shown are pictures of 4' high x 8' wide three rail western red cedar split rail gate. Red cedar lumber is split and hand-fitted to galvanized tubular frame and bolted with galvanized nuts and bolts. Additional notching of wood fascia material in the field may be required to fit hardware to gate.